TARGET-X aims at five different testbeds on two of the largest European test facilities for smart production and automotive driving: The 5G-Industry Campus Europe in Aachen and the Idiada Automotive Testbed close to Barcelona. Five testbeds will be implemented within these trial sites: Automotive, Manufacturing, Robotics, Construction, and Energy.
Idiada Automotive 5G-Trial Site
Applus IDIADA is a global partner to the automotive industry with over 30 years' experience in providing design, engineering, testing and homologation services. The company has more than 2,900 professionals and an international network of subsidiaries and branch offices in 22 countries, with headquarters located in Santa Oliva, Tarragona, Spain. 
IDIADA HQ has 14 tracks with a technical center, 370 hectares covered by a confidential and secure environment, where a controlled and exclusive network with 2G, 3G, 4G and 5G NSA technologies is available. IDIADA, together with its partners, aims to boost the development and use of 5G networks in the automotive field through the following 3 use cases: 
The feasibility of realizing the use cases using the best technologies will be evaluated and demonstrated throughout the project. 
Cooperative perception for Connected Automated Vehicles (CAVs)

Predictive Quality of Service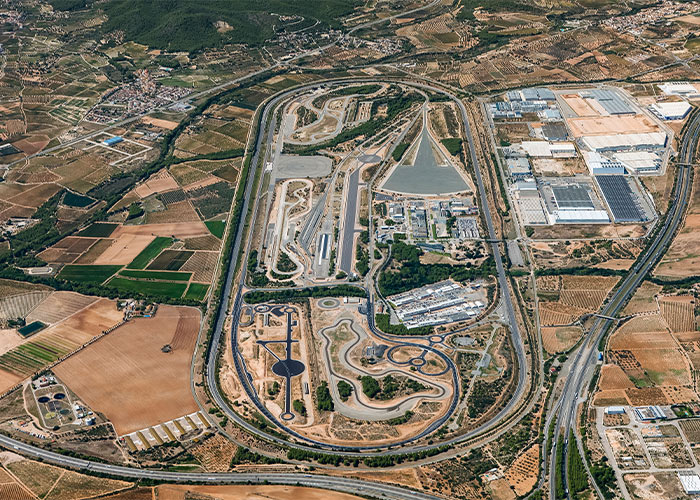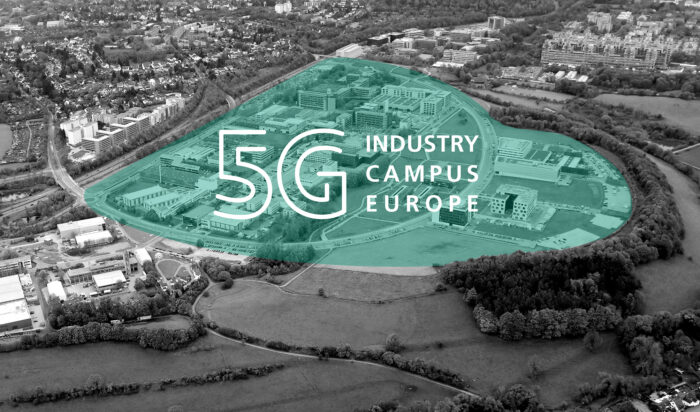 5G-Industry Campus Europe (5G-ICE)
The 5G-Industry Campus Europe (5G-ICE) is one of the German government's official 5G mod-el regions and, at the time of the application, the largest industrial 5G testbed in Europe. It is a large-scale research infrastructure to validate 5G in production. It is located on the Melaten Campus of RWTH Aachen University, a university of excellence famous for engineering sciences. Two factors contribute to the uniqueness of 5G-ICE: A complete 5G infrastructure and the cooperation of three production research institutes – the Fraunhofer Institute for Production Technology IPT, the Machine Tool Laboratory (WZL) at RWTH Aachen University, and the Research Institute for Rationalization (FIR) e. V. at RWTH Aachen University.
All three institutes are equipped with 5G indoor networks covering a total of 8.000 m² of shopfloor with multiple state of-the-art machines and robots. Additionally, the Melaten Campus is covered with a 5G outdoor network of approximately 1 km². All sites have a local breakout with independent tenant configurations to have the entire network capacity for the use cases. 5G-ICE is operated as a standalone non-public network (SNPN) with a central core network hosted at Fraunhofer IPT, the central coordinator of the 5G-ICE. The 5G network is based on Ericsson's 3GPP Rel. 15 compliant network equipment and runs on a dual-mode core, with 5G NR in the spectrum 3,7-3,8 GHz for NR an LTE anchor band at 2,3-2,32 GHz. Within TARGET-X, the 5G-Industry Campus Europe will host trials for the verticals of manufacturing & robotics, construction, and energy.
Line-less mobile assembly laboratory at WZL | RWTH Aachen University
Looking for a world-class facility to collaborate on your next assembly or mobile robotics project? The WZL line-less mobile assembly laboratory is a state-of-the-art facility equipped with multiple robots, large-scale metrology systems, and real industrial product cases. As part of the 5G-Industry Campus Europe, our lab also boasts a 5G indoor network. Our robot fleet is highly diverse and can be controlled using open-source control architecture based on ROS. We have a range of autonomous mobile robots, mobile manipulators, and semi-stationary industrial robots at your disposal. We also have a variety of measurement systems suitable for ground-truth benchmarking of localization problems in a 25×5 m² space. Depending on the required measurement uncertainty, we offer the option of using indoor GPS, motion-capturing system OptiTrack, or a Lasertracker system.
In addition, we have industrial products available for testing real industrial processes, such as automotive/truck or aerospace assembly from previous research projects. Our laboratory provides a simulated environment of modern industrial shopfloors, ensuring the transferability of your results to the industry. Our facility is the ideal place for you to develop, test, and validate experiments in a space that closely mimics real-world conditions. Collaborate with us at the WZL line-less mobile assembly laboratory and take your research to the next level.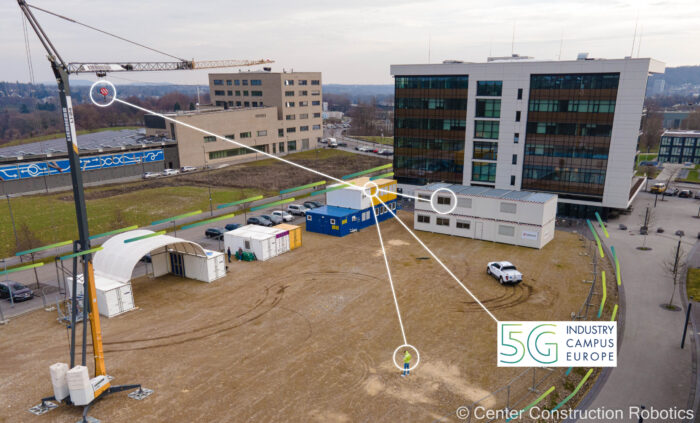 Reference Construction Site
The Reference Construction Site is a trial site for research and development in construction operated by the Construction Robotics GmbH. The site provides RWTH University institutes as well as industry partners with a living lab of more than 4.000m². In this environment innovative processes, products and concepts can be tested and evaluated under real-life conditions. Current research topics not only include networked construction machines, the implementation of robots into construction processes or software solutions but also the prove of new working, communication and teaching concepts. While (on the one hand), sovereignly funded projects enable fundamental research, (on the other hand,) industry related projects guarantee for proximity to relevant challenges and transferability of the research results to practical application. Within the sovereign projects 5G.Namico and Target-X, the Reference Construction Site has been connected to the 5G Industry Campus Europe. Consequently, it also provides a testbed for research and development of 5G-technology within construction use cases. The application of 5G-technology in construction has the potential to automate processes and reduce the workload of personnel. Yet, this transformation requires enhanced safety concepts to protect humans in partially and fully automated processes, while at the same time advancing the digital transformation.
The main objective of the Energy Testbed is to enhance energy awareness and monitoring through the utilization of a private 5G network at the Industry Campus Europe. The energy testbed will involve deploying measurement devices for voltage and current at the E.ON ERC's main building and other points of the 5G Industry Campus Europe. The communication infrastructure will utilize the local 5G network, test its capabilities, and provide novel use cases for 5G-driven measurement devices. This will result in increasing energy awareness for the participating partners and provide new insights into the local power grid.
Key features:
Multiple measurement devices throughout the campus

Cloud-based data analytics and visualization

Real-time simulator driven test environment

Distributed monitoring solutions
5G for energy awareness

5G for monitoring

Increasing sustainability